Fotos: Preparativos de la premiere de "American Horror Story: Hotel" en Los Ángeles (ACTUALIZADO)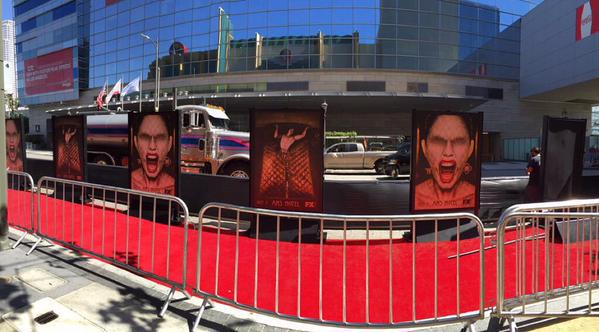 En la noche del sabado (03/Oct) se llevará a cabo la premiere de la serie "American Horror Story: Hotel" en "Regal Cinemas" de Los Angeles, donde el elenco podrá compartir de la proyección del primer capitulo y responderán inquietudes de los fans y medios de comunicación. La alfombra roja será transmitida por la cuenta oficial de AHS en Periscope.
Estas son algunas fotos de los preparativos del evento..
El elenco de American Horror Story: Hotel asistirán personificando a su personaje en la serie.
Can't believe I'm about to go to my 1st premiere as an actress! I couldn't be more honored to be a part of this talented magical cast ❤️

— Lady Gaga (@ladygaga) octubre 4, 2015
"
No puedo creer que voy a asistir a mi primera premiere como actriz! No puedo sentirme mas honrada de ser parte de este mágico elenco"